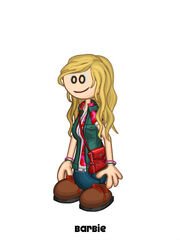 Barbie is a famous Canadian model and actress who is a closer. She is created by Shaira Sultana.
Appearance
Edit
Barbie is a blond girl with a pink shirt. She wears blue jeans, white belt and brown shoes with red laces. She also accessorizes herself with a dark teal vest, colorful bangles and a red bag.
Barbie was born in a poor family. She read in a simple school where she performed excellently in dramas. Days passed and she was more like everyone's favorite doll, Barbie. Slowly slowly she acting became her profession and she became quite popular as a "Human Barbie". Her real name is still unknown in Media.
She wears a jacket exactly like Sam's.
Her real name is still unknown to everyone.
She seems to like accessorizing herself even when she is spare.
She is the first doll-based character to enter the wiki.
Ad blocker interference detected!
Wikia is a free-to-use site that makes money from advertising. We have a modified experience for viewers using ad blockers

Wikia is not accessible if you've made further modifications. Remove the custom ad blocker rule(s) and the page will load as expected.