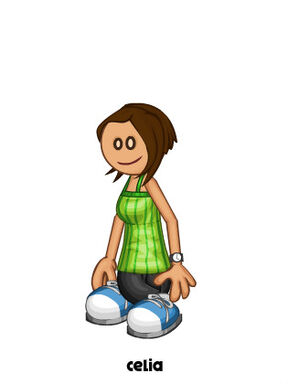 Celia is a young girl who lives in Portallini. She usually behaves like a delicate-darling but she is in fact, quite a prankster just like Tricksy Jack!
Appearance
Edit
Celia wears a green skirt with thin, dark green stripes. She has short brown hair and seems to be a young girl due to her height. She wears black pants and blue shoes with white tips and gray laces and soles. She also wears a gray wristwatch.
Celia is almost Italian, one of the reasons being that she has lived her life in Portallini till date. She tends to trick people into thinking that she is very delicate and then unveils her prankster powers. Her mom's name is Felicia.
She tends to be delicate but is quite tricky.
She is a young girl, around the 10 year mark.