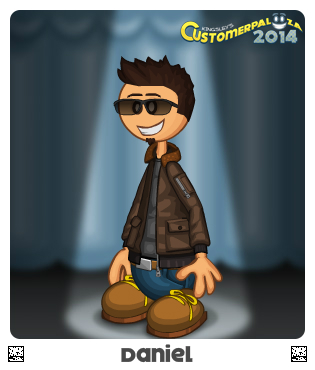 Daniel is quite an awesome and cool guy! His favourite holiday is St.Paddy's Day.
Appearance
Edit
Daniel has a black tee with a bomber jacket. He wears cool looking sunglassses and has dark brown hair-do which is very attractive. He also has a small goatee which adds to his coolness! He wears a brown 80's style belt and has jeans with brown shoes with yellow laces.
Daniel is the sciency, video game lover who tends to act cool. He lives behind freezeria Papa's Freezeria on island Calypso Island. He loves forests and beaches!
He tends to be cool.
He likes forests and beaches.