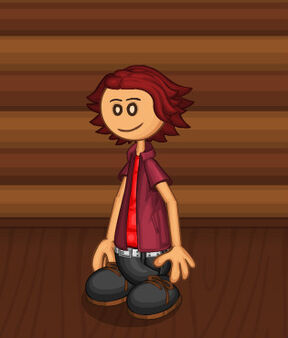 Heather is a girl who makes her appearence in Papa's Sandwich Mia!. She is like Scarlett from Scarlett and the Shakers as her hair is a similar color and she likes Valentine's Day, too.
Appearance
Edit
Heather has crimson-dyed hair and a red T-shirt. She wears a burgundy jacket and white rivets on a black pant. For shoes, she wears black shoes with brown laces and soles.
Being simple but moderately mischevious, Heather can just draw attention from a boy by walking past. She is a fan of Scarlett and the Shakers and has dyed her hair red just for showing she is a fan of Scarlett!
She is a fan of Scarlett and the Shakers.
She is a fan of Scarlett and has many likes and things in common as such as:

Her hair almost the same color as Scarlett's.
She likes Valentine's Day
She usually wears clothes containing red/pink or a shade of red/pink.
Ad blocker interference detected!
Wikia is a free-to-use site that makes money from advertising. We have a modified experience for viewers using ad blockers

Wikia is not accessible if you've made further modifications. Remove the custom ad blocker rule(s) and the page will load as expected.