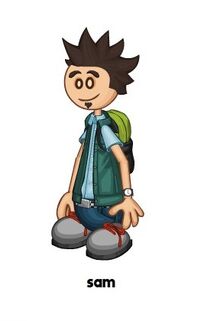 Sam is an International student from Australia. He lives in USA for studying.
Appearance
Edit
Sam has brown hair and fair skin. He wears light blue shirt with a teal vest, blue jeans with a belt, and grey shoes with red laces. He also wears a black watch and a lime green and black backpack.
Sam was a bright student since childhood. Although he is such a bright student, he mostly likes to take photos outside. He wants to show his outstanding photos to his family, especially his father after he returns.
He was used in a riddle in Flipline Studios Wiki.
Ad blocker interference detected!
Wikia is a free-to-use site that makes money from advertising. We have a modified experience for viewers using ad blockers

Wikia is not accessible if you've made further modifications. Remove the custom ad blocker rule(s) and the page will load as expected.