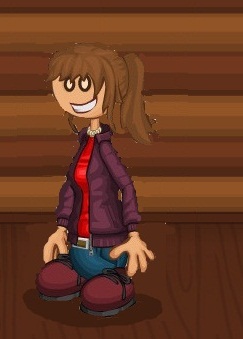 Sammy is a casual girl who first appears in Papa's Sandwich Mia! She likes colors and wears fashionable clothes with different colors, topped with a puka necklace.
Appearance
Edit
Sammy wears a burgundy jacket with a red T-shirt. She has a brown belt to tighten her jeans. She wears a puka necklace and has hazelnut colored hair tied into a pony with bangs. She also wears burgundy shoes with silver soles and black laces
Sammy wears colorful clothes with a puka necklace. She tends to be fashionable as such. Even then, she has good looks. Rumors are spread saying that she is the daughter of the well-known Foodini! 
She could be Foodini's daughter as rumored!
Ad blocker interference detected!
Wikia is a free-to-use site that makes money from advertising. We have a modified experience for viewers using ad blockers

Wikia is not accessible if you've made further modifications. Remove the custom ad blocker rule(s) and the page will load as expected.