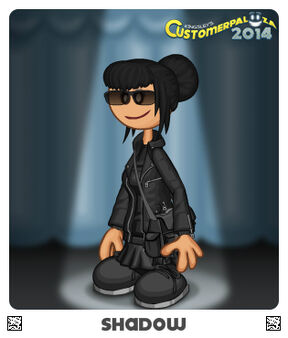 Shadow is the twin of Steel and is the sister of Sparkle, Nebula and Shimmer. Altogether, they are siblings.
Appearance
Edit
Shadow has black hair, black sunglasses, a black jacket and tee, a black purse, a black skirt and black shoes. Overall she wears only black.
Shadow was the firstborn in her siblings along with Steel. She lived with her family in Tastyville, where they had developed a sense of fashion to have different colored hair and clothes. Shadow went with black.
Ad blocker interference detected!
Wikia is a free-to-use site that makes money from advertising. We have a modified experience for viewers using ad blockers

Wikia is not accessible if you've made further modifications. Remove the custom ad blocker rule(s) and the page will load as expected.