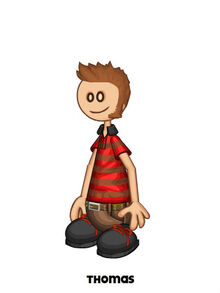 Thomas is a man who is Grace's husband. He was created by Shaira Sultana.
Appearance
Edit
Thomas has light-colored hair and facial hair. He wears a red and brown striped shirt, brown pants with brown belt and black shoes with red laces.
Thomas is a French man who likes to read comics even after being married and having a son. Still, this personality surely came of a use to him, because his son is having a friend to enjoy with at home. His son, Billy feels proud to say how interesting comics he gets to read with his father together and how good their relation is.
His wife is Grace and his son is Billy.
He likes comics.
His clothing is mostly red and brown.